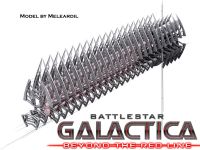 Well we're starting to get a little feedback on the new design. Some of it good and some of it pledging allegiance to the old design. In essence, some of you are saying the new design rocks, but so did the old one. Well, we hear you! We liked it too, and it was hard to move away from it, but we felt that the new design had several advantages over the old one. But before I go into those reasons, we've got some good news that we hope will please some of you that miss the old design.
No we're going to switch back, but we are going to do the next best thing. As I write this Jose is hard at work implementing the old interface within the new design. To tell you the truth, we had discussed including it within the new design, but with all of the pressure to launch the new design, we spaced it, and forgot to go back and check if we missed anything. But thanks to those of you that have spoken up, it's coming back. We wanted you to know that we appreciate your feedback and are listening. So keep checking the blog, because I'll let you know when the old interface is ready and where you can access it.
Why we switched?
Not to beat this dead horse too much, but I thought you should know why we felt the new design was needed and ultimately better.
Search Engine Optimization

- We here at DóndeEs.com are firm believers in the power of the Internet. However, when you are firm in that belief, it follows that you firmly believe in the power of search as THE dominate force on the Internet. We are so concerned that if we don't achieve superior search results, then we feel we shouldn't even be in the game. From the home page to the location information section to the list of categories in the directory, all of these enhancements are aimed at improving our search results.



Flattening the functionality

- In the old design is was simple to do simple things, but difficult to find some of the more advanced features. So we tried to make it easier to get to some of the more advanced features, but we may have made it more difficult to do some of the simpler things. Hey that's called progress! No, that's what we call a boo boo in programming speak. Here are features we wanted to make easier to use:



Lighter Home Page

- While many of us benefit from broadband capacity in our homes and businesses, there are still people on dial-up. You're like "Whaaa?" Right? Well the large map on the home page was a killer to load for many visitors, so switching to a text based home page, dial-up users get to see the page sooner. We felt that would reduce our bounce-rate, but it's actually moved it in the wrong direction. We hope that is just a symptom of the traffic settling into new patterns.
Well those were some of the biggies, but by all means, if there was a favorite feature that you liked on the old design and you can't find it now, please leave a comment or drop us a suggestion on the site. If it's something we can resurrect we will (Skin-job style), if not, well I guess the resurrection ship is out of range and it's just gone.