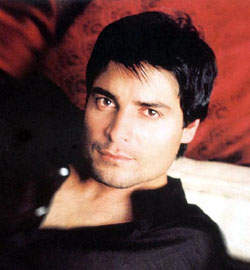 Recently, pop sensation Chayanne was in Quintay, just outside Santiago Chile, to film the video for his upcoming single "Si nos quedrara poco tiempo". The new single will arrive as part of his new record which is due in stores the 10th of April. Claudio Divella will direct the new video. Divella has also produced videos for Diego Torres, Gustavo Cerati, and Charly Garcia.

The video portrays Chayanne
leaving his house, like every day, while thinking that his life has fallen into a routine. As soon he thinks this, his life changes to consider the possibility of something terrible happening and recognizing the little time left in his life should be for love and the attention for his mate. And who wouldn't want to think about Ivanna Sacanni (go ahead, click on it...you'll thank me later!) if they were her mate. I mean hello, she's freaking hot.

The new album, which is still untitled, will be a typical production for the megastar. Within the disc there are eleven (11) songs, six ballads, including "Tengo miedo", and five livelier rythmic songs, such as "Lola".